Gift Vouchers
If you have ever been stuck for a gift for someone who is difficult to buy for we have the answer. Try a helicopter flight. We have a wide range to choose from including 10 minute flight experiences, hover challenges, helitours and pleasure flights. If you know someone who has always wanted to have a go at flying a helicopter you might consider buying them a trial lesson. Our trial lesson packages provide a great opportunity to experience what it is like to be a helicopter pilot.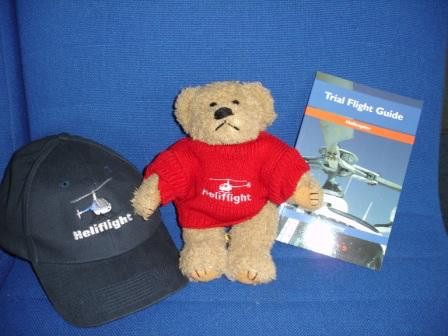 Heliflight's gift vouchers provide you with the flexibility to treat someone to a special experience at a time and date that is convenient for them. You can book and pay on-line and print a voucher that is valid for 6 months. The recipient simply calls to book their flight. Alternatively we can print and send a voucher out for you, or a gift pack to include a book on flying a helicopter and/or a Heliflight baseball cap, essential wear for a helicopter pilot on sunny days. Heliflight Teddy Bears can also be purchased from the flying school for an additional £10.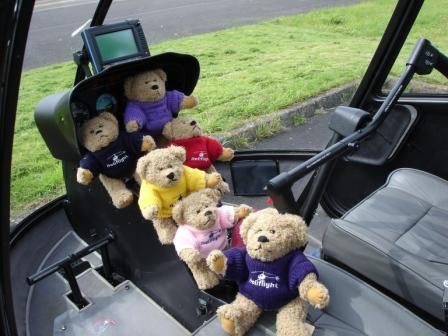 Purchasing a gift voucher is quick and easy. Simply look at the types of flights we have available and press the buy a gift voucher tab. This will take you to a menu where you can select further options such as the type of helicopter you'd like to fly and how long you want to fly for. You can then view a summary of the flight before finally paying. We take credit cards and debit cards through our secure connection. It's simple, convenient, and will make someone's day.
Looking for your gift
To help you find the gift you would like to purchase simply click on the links below for descriptions of the flights we offer:
Hover Challenge: hovering is what makes a helicopter such a fantastic flying machine. It takes skill and co-ordination to hover. How long can you stay in the hover? Now is the time to see. With your instructor beside you, to assist as required, its time to take the controls. You have just 15 minuites to master the art. Let the challenge commence. Good luck
Helitours: a great way to see the surrounding countryside and prominent landmarks. There's a range of tours to choose from typically lasting 45 minutes.
Pleasure Flights: with a pilot at your disposal you choose where to fly. Perhaps you would like to see your house from the air. Select from a range of times and helicopters.
Trial Lesson: have you always wanted to fly a helicopter? Here is your chance to experience, hands on, what it it like to be a helicopter pilot.